College
Magazine
A college magazine is a mirror of the college life. It projects the important events celebrated, the activities done and achievements earned in the college during a certain month or year. It brings out the latent creative talents of the students and thus helps them to be good writers. A student feels proud and happy when he finds his own writing in print in the college magazine. It is a treasure island to the students. Moreover, it is a link between the past and the present students of the college. The ex-students can rightly remember the college with all the happy memories of their student-life when a copy of the college magazine reaches their hands. Thus college magazine plays an important role in the life of college students.
Our annual magazine "ধনধান্য (Dhanodhanya)" (meaning prosperity, wealth or opulence) is unveiled on the solemn occasion of the foundation day of the college on 28th February every year. Teachers and students of the institution contribute their creative writing in the magazine. It contains poems, articles, essays, plays and short stories, paintings, humour, fiction, puzzles, or cartoons, etc. The magazine also keeps record of the college's activities and achievements of that academic year. Various photographs of college activities are included in a college magazine. This year the Publication Sub-committee has published 6th edition of its College Magazine "ধনধান্য (Dhanodhanya)".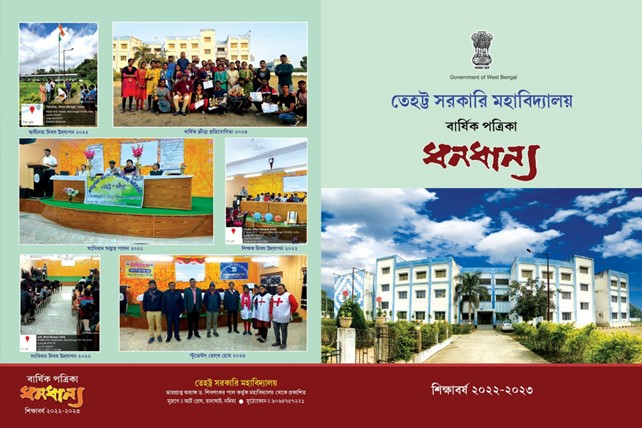 The college magazine serves many useful purposes.
It helps them to improve their reading and writing skills to a great extent.
The young writers and poets get an excellent opportunity for displaying their talent, creative work & self-expression.
It reflects the literary, academic and co-curricular activities going on in the college.
Editorial Board
Patron-in-chief: Dr. Sibsankar Pal
Convener(s): Gouranga Mondal, Gopal Mondal
Members: Avijit Saha, Md Najir Hossain